I hope everyone is having a fantastic spring.  My family and I have been enjoying time on the ski slopes together nearly every weekend. My young kids are also busy with dance competitions and soccer games. My oldest daughter is finishing up with her freshman year at the University of San Diego.  Time is flying by! It is hard to believe that she was just 3 years old when I was diagnosed with breast cancer for the first time.
The new pins are now in at Pink Wings. We have all pins in stock except for the Black Bust Pink Ribbon pin, which is sold out again. As the walk season begins, more orders are coming in for the Pink Wings Fundraising Kits
SKU #1270
 and SKU# 1004
.
The Pins in Bulk (SKU #1285, and SKU #1329) are also great. You can mix and match the pins you purchase to maximize your fundraising. These are great items to sell when raising money for your upcoming events.  We also have tons of pink ribbon knee socks in stock. They are available in white, black, grey or pink and can be purchased at discount pricing when ordering in bulk. These are fantastic for walk teams, dance teams, cheerleaders, soccer, volleyball, soft ball and basketball teams!
We still have a few of the pink ribbon hoodies for sale in Pink.  I have just 5 left and they are all size small. I also have a few hoodies in Periwinkle Blue (sizes XL and 3XL only). The Periwinkle blue hoodies run big. We also have the 2-tone Zip hoodies available in all sizes (S-2XL). The Zip Hoodie runs small- so it is best to buy one size larger than you normally wear. I have 2 of the children's hoodies left in size small only (it fits a girl size 3-4). Buys yours today!!
The Tye Dye Pink Ribbon Shirts in Pink and Black (SKU# 1681), the Camo Pink Ribbon shirt (SKU #1478), and the Faith Burn Out shirt (SKU# 1131) all continue to be big sellers.
We will have a new Pink Wings Pink Ribbon shirt available in May. It will come in Survivor with Pink Ribbon, or just Pink Ribbon. Colors available will be Black or White.
If your team is looking for cute pink ribbon shirts to wear at your event- I do bulk pricing on the Pink Wings shirts. Most come in sizes S-2XL and the camo comes up to a 3XL. I will also send you Pink Wings temporary tattoos for your team for each shirt ordered. Email me at info@pinkwings.com for more information and pricing.
Don't forget to check out our new Co-Survivor Pink Ribbon pins. These are great for those that have supported a woman (or man) going through treatments for breast cancer. They come in 3 styles.
Our butterfly ribbon pin now comes in 3 colors; pink, teal and purple.
Upcoming Breast Cancer Walk Events:
May 5, 2012- The Revlon Run/Walk for Women in New York
May 12, 2012- The Revlon Run/Walk for Women in Los Angeles
Since the inception of the EIF Revlon Run/Walk in 1994, over $65 million has been distributed to support pioneering research, deliver diagnostic treatment services for medically under-served women, and provide psycho-social & financial support to women facing cancer and their loved ones.
Go to this link to register or to learn more about the Revlon Run/Walk.
http://www.eifoundation.org/content/eif-revlon-run-walk-2012
The Avon Walks start up April 21-22, 2012 The first walk is in Houston.
There will be 9 Avon Walks this year through out the country. Go to this link to register or to get more information.
The Komen 3-Day Walk for the Cure (a 60 mile walk) starts up again with their first event July 27-29, 2012 in Boston. There will be 14 walks this year through out the country.  I have completed 12 of these walks and I am absolutely a 3-Day walk addict.  I love meeting new friends, traveling to new places and raising funds in the fight against breast cancer. There is a $25 registration discount if you sign up by April 30th. The discount code is SAVE25.
To find out more or to register for the 3-Day Walk, go to this link.
http://www.the3day.org/site/PageServer
Pink Wings April Specials
Purchase any shirt or hoodie at RETAIL pricing by April 30, 2012 and get a free Peace Heart Cure pink ribbon pin, a Knock Out Cancer pink ribbon lanyard, a Believe silicone pink ribbon bracelet, and a Pink Wings temporary tattoo for free. This is over $18 of FREE Pink Wings pink ribbon product! Put the words April Special in the order comments at check out.
Get 15% off any RETAIL order by typing APRIL15 in the COUPON CODE box at check out.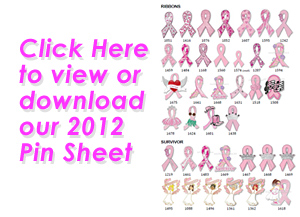 I am attaching a link to the Pink Wings Pink Ribbon Pin Sheets and the All Colors Pin Sheets to this newsletter. For our stores and our fundraisers: these are fantastic to print out as it makes it easier to place your order. It is also great to show your customers the pins we have available. You can pre-sell the pins and then place your order. Please note that not ALL of the Pink Wings pins are on these sheets. I have not added ALL of the state/city walk pink ribbon pins or the dated pink ribbon pins.
For information (and pricing) on how to create your own custom pins, key chains, charms/pendants, silicone bracelets, lanyards or temporary tattoos for your store, event, or team, please go to www.pinkwings.com and click on the link on the left that says Custom Items.
If you have an idea for a pin that you think Pink Wings should create- please feel free to send me an email. This is how some of the Pink Wings pins have come about- from our wonderful Pink Wings customers like you!
Have a fantastic week,
Courtney
310-663-0482